I told you, my faithful readers, some time ago that I was working on getting a book that I'd written years ago, published. Well, it's finally in print!
"Whizzer Wins It All" went up on Amazon.com Monday, while it became available on Barnes and Noble Tuesday. By the way, the sub-title is, "But It Wasn't Easy, Folks!"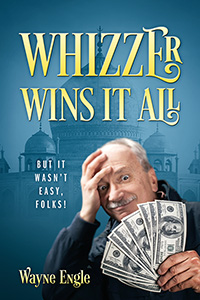 If the title sounds a little odd, let me give you a brief outline of the novel. "Whizzer" is the leading character — Julius Caesar McCall, who picked up the odd nickname as a child when he was always saying, "Gee, whiz" this and "Gee, whiz" that. He grew up in a Midwestern town somewhat like my home, Madison, Indiana, in a poor family, and never made "much of a mark" in life — until one day he won the biggest lottery prize in human history!
And the story goes on from there, as you can imagine. I wrote the entire novel in the tense of one guy telling the other a long, complicated story, while both are seated at a bar, slurping up beers. The storyteller is buying all the hooch, of course; he doesn't want the other guy to get tired of hearing it and walk out!
I think — I hope — you'll find parts of the story amusing. And you may be surprised at some of the odd turns that it takes. But who the heck wants to read a book that's entirely predictable? Not me, certainly!
And I hope not you folks, either. The manuscript for this story was laying around in my home for five years before I finally got around to pursuing a publisher. But the one I finally found — Outskirts Press of Parker, Colorado — has done a terrific job in getting things prepared. And I thank them, most sincerely.
So, that's all I'm going to say about it now. If you want to learn the rest of it, you'll have to shell out a little cash. Not too much; you probably won't miss it while you're enjoying "Whizzer Wins It All." Happy reading, folks!