Our venerable guardian, our Jefferson County Courthouse, is back up and running. And looking better than ever.
The May 20, 2009 fire that destroyed the cupola and roof and heavily damaged the third floor couldn't keep the grand old building down — although some of us wondered at times whether the reconstruction job would EVER be finished.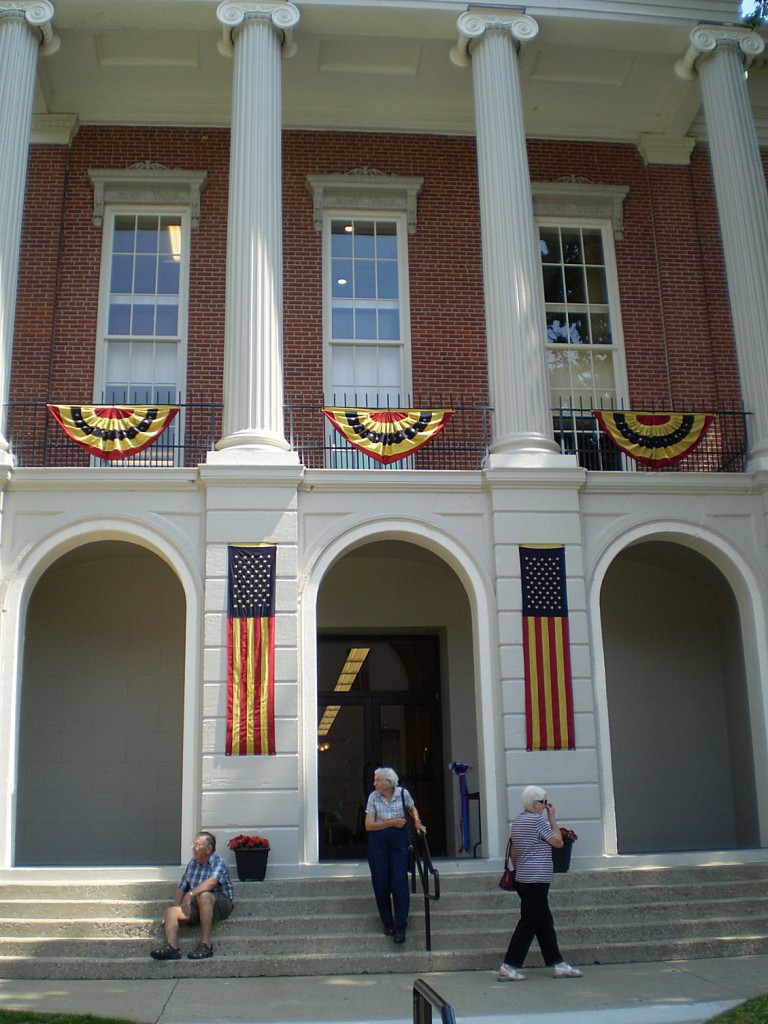 But it was. Friday at 11 a.m. the courthouse re-dedication took place, with a sizable crowd present, including the prominent, the once-prominent, the average, and Old Corporal. I'll let you decide which category I belong in.
All three of our county commissioners — Mark Cash, Julie Berry and Tom Pietrykowski — addressed the crowd about the tremendous effort made by the community to restore the 150-year-old building. Madison Fire Chief Steve Horton thanked the volunteer personnel of his own department, made up of six independent — some would say DAMNED independent — companies. He also shone the spotlight, so to speak, on the numerous non-Madison fire departments who responded to the city and county's calls for help in putting down the huge, smoky conflagration. Circuit Judge Ted Todd also addressed the crowd, and accepted an old county record book from the 19th Century back from Joe Carr of the Jefferson County Historical Society, where it had been in safe keeping since being rescued from the May 20 fire. Todd noted that there was some fire damage to the book — but it was from two 19th Century fires that had struck earlier courthouses.
As I sat listening to the speeches, the introductions of present and former county officials, I saw a number of people who I had worked with at the courthouse — not as an employee there, but as the Madison Courier police and courts reporter for — oh, I don't even want to think about how many years. Just glad someone else has to do it now while I enjoy retirement.
Don't know how many hours I spent in that building, either. It was an every afternoon thing. Keeping up with news in two courts is demanding. Throw in the occasional murder trial which had to be covered, gavel to gavel, and it sounds like it was a full-time job. But I had a lot of other duties, too.
That's not part of this story, though. As I sat there I thought back to the many, many incidents I can remember connected to the courthouse and people I interacted with in it.
Like the time I quoted the circuit judge and county sheriff in a news story of many years ago. They contradicted each other about whether they had conferred before the judge suspended the sentence of two men convicted of a strong-arm robbery. When the story hit print, the judge hit the ceiling, called my then-boss, Don Wallis, and demanded that he send "that reporter up here to my office immediately!" Old Don went to bat, for me, though. Instead of sending me to be browbeaten, he sat down with the judge and managed to mollify his fit of temper. I still don't know whether one of the two elected officials had a faulty memory, or whether each had possibly massaged the truth a little.
Or the time when, stressed out about a number of things one afternoon, I referred to a secretary in another judge's office as a "bitch," within earshot of that secretary. She told her boss, he called my boss, I had to trudge back up to the courthouse and apologize. Not proud of that one; I was wrong.  
Then there was the time that a tall, gangly young man got into an electrical substation in downtown Madison and threw a switch, or did something, at any rate, that plunged the entire downtown into darkness. Madison Police investigated and made an arrest later that night. The next afternoon, he was brought to court, along with four other prisoners who were there on unrelated charges. I was there to report on what happened. Little did I know …
When the skinny guy's turn came to sit at the defense table, and the judge began asking him questions, the young man blew his top, grabbed a wireless microphone and threw it clear across the courtroom — whether trying to hit the judge, the prosecutor, or no one in particular, was never clear. Then he upset the defense table. The single jailer who had brought the five prisoners to court rushed over and tried to wrestle the guy down and handcuff him; but he wasn't quite equal to the task. Finally a court official had to help the jailer subdue the guy, who of course then faced additional charges. The other four prisoners kept their seats and didn't try to take advantage of the turmoil — luckily.
And there were the criminal trials — most of them for murder, a couple for rape. Fascinating to cover, but for a reporter, draining — very draining. Lot of emotional testimony. Many, many details. Often tensions rose in the courtroom among the spectators, especially family members of whoever the victim happened to be.
I remember at one rape trial, the defendant, who was out on bond, failed to return from lunch the second day of the trial. Of course the judge issued a bench warrant for his arrest for failure to appear, adding to his already considerable legal problems. I don't remember whether a mistrial was declared or not. It's very possible. Don't even remember the guy's name, although I'm leaving names out for the most part; some of the people I'm talking about are deceased; others would not like having their names associated with court cases.   
Of course, the Shanda Sharer murder case of Jan. 11, 1992, was the most heinous one I ever covered. Four sentencing hearings were held for the four girls who pleaded guilty in that case, to the murder of the 12-year-old New Albany girl on a rural road near Canaan. Three of them were from Jefferson County. I've always felt that my coverage of the first sentencing hearing, in December 1992, was the best on-the-scene reporting I ever did. But then, that's just my opinion.
That case got more attention than any other crime ever committed in Jefferson County. The Courier received requests for information about the case from as far away as Australia and Israel. Two books were written about the case. One of them mentioned my name several times as the first reporter to learn of the murder. An off-Broadway play was written and performed in New York City, based on the Shanda Sharer murder case. Google her name, and you will still find a lot of material on the Internet about it.
And my first awareness of an event that would enter history books all over the world came when I was at the courthouse one morning, writing down court news in the clerk's office, because I hadn't made it the afternoon before as I usually did.
The phone rang as I wrote; of course I paid no attention to it. But after the deputy clerk who had answered it hung up, the first thing she said was to me. And it was: "Oh, Wayne, my husband just called and said a plane just hit one of the World Trade Center towers in New York." Minutes later the phone rang again. It was her husband telling her that a second plane had hit the second tower.
It was Sept. 11, 2001. Doesn't seem possible that will soon be 10 years ago. Our world changed for good that day. And I first heard of it at our courthouse.
But — and this is ironic — one of the things that I remember the most about my years spent gathering court news and covering trials at the courthouse, is that one summer when I went on vacation, the reporter who subbed for me on that beat, was a future county commissioner.  
That's right; in the summer between her junior and senior years in college, Julie Berry — who was then Julie Jackson — was the Courier's newsroom summer intern. She and I hit it off immediately, because she treated me as an equal and wasn't overawed at working with a senior reporter who had been on the job so long, and seen so much. We became good friends, and remain such. She was a reliable, hard-working reporter during that summer, and I'd like to think we had a little bit to do with getting her career started.
We never dreamed, either of us, that one day many years later she'd be presiding, with the other commissioners, over the re-dedication of a courthouse which has been a classic survivor. And that I'd be a happily retired, graying Old Corporal, cheering her on silently from the audience.
Funny, isn't it, how things sometimes turn out?