He was first "The Oklahoma Yodeling Cowboy;" then simply, "The Singing Cowboy." And later, "America's Favorite Cowboy." And finally, just "The Cowboy." His theme song, "Back in the Saddle Again," was probably the best known one of any of those of the B-Movie cowboys. And, by the way, it sparked some ribald jokes along the way, too.
Gene Autry established a whole new genre of Western movies, back in the 1930s. He took Western riding, action, fighting, shooting, etc., and grafted onto that template, music, both vocal and instrumental; more humor than had been common in earlier Westerns; and a connection with the America of the Great Depression that hadn't existed in the "Wild Westerns" of the screen before.
And the American moviegoers ate it up like the popcorn and candy they bought at the concession stand. Gene was the leading movie cowboy, in terms of the amount of his box-office draw, from 1937 until 1942, when he enlisted in the U.S. Army Air Force in World War II. In 1940, he placed fourth among all U.S. film stars in popularity.
And yet, many film reviewers over the years have poo-pooed his movies, referring to them condescendingly as "oaters" or "programmers," calling their plots "predictable," and so forth. And they've ridiculed Gene himself, speaking of his "modest talents," saying he "couldn't act," that he was "bland," that he was only mediocre at riding his horse, Champion, and that he used a stunt man for any activities in his films involving danger, whenever possible. And that, of all things, his singing was "not all that good."
I NEVER COULD understand the animus that some reviewers seemed to have against Autry. He had risen by his own efforts, from rural poverty that was real and hurtful, in the early years of the 20th Century, to being a world-class entertainer. He had succeeded because (a) he was a tireless worker, whether it was at the hard physical work he had to do growing up, singing on the barn dance radio show in Chicago in the early 1930s, making movies and TV shows, traveling tirelessly for personal appearances, or building his business empire when his entertainment days were over; (b) he was possessed of a singing voice that proved pleasing to millions of the people who became his fans; (c) he had a likeable, easygoing personality that adapted well to becoming a cowboy hero who always just played himself — Gene Autry; and (d) when making a movie, or later, his half-hour TV series, he always came to work "ready," knowing his lines, not inclined to "goofing off," all business. But he was always friendly and kind to his fellow actors, and displayed little of the kind of "temperament" that besmirched the reputations of some of his fellow film stars.
And in reply to those critics of Gene Autry: If he was a mediocre singer, a non-actor, a poor rider, why did the American moviegoers flock to his Westerns the way they did? He never claimed to be "an actor" — but as his later sidekick Pat Buttram once said, "He can play Gene Autry better than anyone in the world." Anyone who really IS an actor, can tell you that playing themselves on stage or screen, is not all that easy.
And Gene did many of his own stunts in his movies. In published interviews with people who worked with him, they have said repeatedly that he LIKED doing his own stunts. But many directors wouldn't let him do the really dangerous ones, because if he had been injured, shooting could have been held up for weeks, costing the studio lots of money.
And although a mediocre horseback rider when he started making movies, within two years he had turned into a crackerjack horseman. And when pursuing bad guys, he rode Champion "flat out," at full gallop. Also, after he left Republic Pictures, with whom he had had repeated problems concerning his pay, time off for personal appearances, etc., and went to Columbia Pictures, he had much more control over his own movies. And the scenes where stuntmen were used in Gene's place, declined precipitously. You can tell it if you look closely. A good example is the climactic scene in "The Blazing Sun," in which Gene and the head bad guy have a knock down-drag out fight aboard an open freight car on a movingtrain. The camera work makes it obvious that it really IS a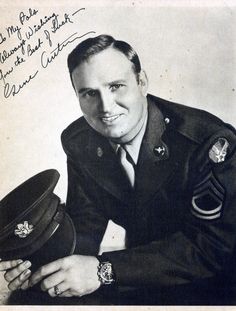 speeding train, and it really IS Gene, and the other actor, knocking each other around. It's one of the best Western action scenes I've ever watched.
ORVON GROVER AUTRY — his real name — was born on Sept. 29, 1907, in Tioga, Texas, to Elnora Ozment and Delbert Autry, who raised horses for sale on their small farm. His mother was very musical, and early on he began to learn singing, then guitar playing, from both her and his paternal grandfather, a Baptist minister, who needed a tenor for his church choir.
From his father, who was easygoing and friendly, but was what Autry himself described years later as "a casual provider," who would often disappear from their small horse farm for weeks at a time, Gene learned that he must fend for himself if he wanted to "amount to something" in this life. And besides an excellent work ethic, he had a burning ambition to be something more than a Texas-Oklahoma horse trader or dirt farmer, which early on seemed to be his fate.
Whether it was working on his Uncle Calvin Autry's farm; as a clean-up boy and "singing mascot" at a local barber shop; or, a little later, tapping the telegraph keys for a railroad line, Gene Autry was at once helping his care-worn mother to support herself, him, and his three younger siblings; and keeping his "eyes on the prize" of becoming a musical star of some kind. He knew not what kind, yet; but he knew that he was on his way. Judging by quotes given by friends and relatives of the early years, individuals destined to become "big stars" in entertainment, often know it, much sooner than those around them. Gene Autry is one of the best examples of that.
In all his early life, it was like he could see that gold at the end of the rainbow — and he was willing to work every bit as hard as it would take, and then some, to get that gold.
Dropping out of high school in the tenth grade, largely because he was in a hurry to start his meteoric rise, Gene Autry worked for the railroad while seeking every opportunity to get recognition for his singing. Finally, in 1929 in New York City, his break came. Gene had gone there from Oklahoma on his railroad pass, walked up and down Music Row trying to get a recording studio head to listen to him sing and play his guitar — and finally, one did. One thing led to another, and soon Autry was recording "country blues" songs, a la the famous Jimmie Rodgers, the Singing Brakeman. He became so good at imitating Rodgers' sound, especially his "blue yodels," that many years later when a record company put out an album with a collection of Rodgers' biggest hits, those selecting the songs inadvertently included a Rodgers song that was an Autry cover version. The mistake was not discovered until the album had already been shipped to thousands of stores.
THAT WAS ONE of those "modest" talents that his critics didn't want to admit Gene Autry had. He was a very gifted mimic. Later on in the 1930s and '40s, when he had become a big Western film star, Autry would sometimes entertain friends with his impression of President Franklin D. Roosevelt giving a speech. I should add that Autry was a staunch Democrat, and a big supporter of Roosevelt.
From recording "blue yodels" for twenty-five cent sales to the farmers, laborers and shopkeepers across the South and West, Autry managed to get a featured singing role on the "WLS Barn Dance" radio show in Chicago in 1931. That, plus his records and his tireless traveling to make personal appearances, resulted in his being offered a small, musical role in a Ken Maynard Western, "In Old Santa Fe," in 1934. He and a young friend he had hired for his extensive musical and comic talents, Lester "Smiley" Burnette, appeared together for about 10 minutes mid-way through the movie, and suddenly Gene Autry was known as an up-and-coming young star, from coast to coast. And the rotund, super-talented Burnette became identified as Gene's movie sidekick for many years.
It was Gene Autry's final, triumphal step in his pursuit of that rainbow. Republic Pictures began starring him in a series of B-Westerns unlike all those which had come before. Within a couple of years he had charged to the front of the horse race for the lead among all the cowboy stars in the Hollywood firmament. Churning out six or seven movies a year, he stayed in that position until joining the U.S. Army Air Force when we became involved in World War II.
Returning to the movies in 1946, and then changing to Columbia Pictures the next year, Autry picked up where he had left off — although he was no longer Number One at the box office. Roy Rogers had stayed out of the war and kept making movies, grabbing that distinction. But it was not like Gene to make an issue out of something like that, or to waste time worrying about it.
In addition to his movies and records, the Singing Cowboy had started a radio show, "Melody Ranch," in 1940. He returned to that, also. Some people wondered when he slept, with so much going on in his successful life. And then, just when everybody thought he couldn't possibly get more involved in his entertainment career, he started his own half-hour TV show, which was aired from 1950 to 1955.
BUT BY THE latter year, Gene Autry was starting to burn out on entertainment. He was 48 years old by that time; his drinking, which began during his military service, had gotten markedly heavier, and that was one big thing that caused his radio show to be canceled in 1956. He continued with personal appearances into the late '50s, but his alcohol addiction caused missed performances — and a few embarrassing incidents at the ones he DID show up for.
And then there was Gene's fondness for the ladies, which caused wisecracks about his theme song, "Back in the Saddle Again." "It wasn't always with Champ!" they'd say. A married man since 1932, Autry didn't let that stand in the way of his pursuing attractive actresses — and others — here, there and yonder. A young singer who traveled with him in the late '50s related many years later of Autry's telling him that "The Cowboy" slept with nearly all his leading ladies because, "Hell, son, I figured I owed it to them!" His ongoing affair with Gail Davis, who was leading lady in many of his later movies, and of his half-hour TV shows, nearly caused his wife, Ina, to divorce him before he finally brought it to an end.
But Gene Autry was never down for long. He turned full-time to the business career he had been working on in his free time (what little he had) for years. He owned many hotels and radio stations, and was an astute executive in running them. But that included dealing fairly and honestly in business, as he had always exemplified as a cowboy in his movies. He said in his autobiography, "Back in the Saddle," (1978), "I always felt like the best business deal was the one that left both sides feeling satisfied. Leave a little meat on the bone."
And in 1961, he purchased the California Angels baseball team, and was their owner and biggest fan until his death at age 91 in 1998. Autry had been a fine baseball player himself as a young man, before starting his musical career, and was once given a chance to try out for a minor league team. But he turned it down after calculating that he would make more money continuing his employment with the railroad than he would in professional baseball. Gene Autry, who had to battle childhood poverty, a meager education, and various other disadvantages, was always looking ahead; always keeping his eye on that rainbow; always reaching for that pot of gold.
HE WAS AN interesting, almost unique, combination of qualities, was Gene Autry. A person who worked with him in the days when Gene was on the way up, and doing everything he could to advance his career and gain more fans, said many years later: "Gene loved making money. But he also loved DOING what he did, to MAKE that money."
He was "all business" on the movie set, lines learned, ready to go, no "horsing around." But he also made many visits to children's hospitals, chatting with and entertaining the youngsters who were patients at any given time — and in his day, most of them were probably his fans.
In Ken Maynard's last years, when the former cowboy star was broke and destitute, rumors have held for years that a friend sent him a check regularly to help finance his meager life. But the money that friend sent Maynard, didn't come from the friend's account. According to the rumors, Gene Autry sent a personal check to that friend each time. The friend would then write his own check for the same amount, made out to Maynard. Autry felt that Maynard, having given Gene his start in movies, was someone who he should help personally. But he also suspected that Maynard would reject the money if he knew it came from Autry, who was 12 years younger than Maynard and had still been pounding a telegraph key when Ken Maynard was a movie cowboy earnings thousands of dollars a week. All Maynard had left, was his pride.
And Maynard was only the most famous Hollywood friend of Autry's that Gene helped when he was down on his luck. Although "The Cowboy" was astute at accumulating money, and loved doing so, he also had a big heart. People who knew him have talked of how, in his later, businessman years, if he was walking down the street, he would have a wad of $100 bills in his right pocket, a bunch of $50's in his left. If approached by an old friend who had seen better days, Gene would decide on the spot whether to give the person hundreds, or fifties, depending on a set of standards that included the extent of apparent need.
Perhaps Gene Autry's childhood and early years, of trying to take care of his long-suffering mother and his three younger siblings, established in him a conviction that those who have done well, should share — voluntarily — with those who haven't.
I've written other columns about Gene Autry on Corporal's Corner. One was even a fictional short story. Sometimes I have to be careful not to do it too often. After all, he was not everyone's childhood hero, as he was mine.
But in my book, you couldn't pick a better one.