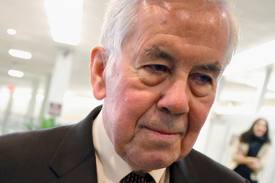 Sometimes people "go to the well" once too often. They "wear their welcome out." They refuse to "quit while they're ahead."
Sen. Richard Lugar, R-Ind., found that out last night, when he was denied a seventh term by the voters in Indiana who chose a Republican ballot in our primary election. Lugar lost by a rousing 61 percent to 39 percent margin to state Treasurer Richard Mourdock, who was heavily backed by the Tea Party organization. Liberals had been telling us (or hoping), that the Tea Party was "not nearly as popular or formidable as it had been." Tell that to Dick Lugar.
Here in Jefferson County, Ind., another public official, Ralph Armand, was fired a couple of weeks ago as the county health department administrator. True, Armand was not "voted out" by the people; he was dismissed by the county health board after 29 years in his position. But heavy public pressure, including a petition signed by more than 2,500 people, showed the board which way the wind was blowing. They wet their fingers, tested the air, and acted accordingly.
Lugar served six terms as an Indiana senator — twice as long as any other man who held that office in the state's history. As a matter of fact, Dick Lugar ended former Sen. Vance Hartke's career after just three terms by defeating him for re-election in 1976. Two years before, Lugar had tried, and failed, to end former Sen. Birch Bayh's tenure at two terms. Bayh survived the challenge, and served a third term, only to be denied a fourth by former Congressman Dan Quayle in 1980.
Lugar was widely respected as a statesman and former mayor of Indianapolis, who had instituted UniGov in Marion County. He was considered a "bridge Republican" who often helped members of both parties cooperate in the Senate to push through needed legislation.
But that was then; and this is now. Deceased former Sen. John Sherman Cooper, R-KY, was considered a moderate Republican — and therefore was more respected by the liberal news media than his more conservative colleagues. But did he fit in with the more ideologically polarized Congress of today? I doubt it, very seriously.
Lugar's moderate record certainly had something to do with his being defeated by Mourdock, backed by the Tea Party. But, here's another thing. He had been there for 36 years. He's 80 years old. If he were working for a private firm, he would probably have been forced out by company regulations about retirement age, 10 years ago. But as many other politicians have done (Ted Kennedy comes to mind), Lugar appeared to think that the state of Indiana, and the U.S. Senate, couldn't continue to function without him. The voters begged to differ.
Ralph Armand never served in a legislature or Congress, but he had a long career in public service, nevertheless. Twenty years with the Madison Police Department, one term as sheriff of Jefferson County, and 29 years as the health department administrator.
I know Ralph Armand personally, and I won't presume to judge his effectiveness or lack of same in any of those public service jobs. When Armand was sheriff, I worked with him for four years as the police and courts reporter at The Madison Courier. I'd have to say he was always pleasant and cooperative with me. So I can't say anything personally about him.
But when you're in any job for 29 years, you pick up a lot of baggage. I heard rumors about Ralph Armand being arrogant and unbending toward members of the public he dealt with in connection with approving sewer connections, septic tanks and the like. I heard of him being demanding and overbearing toward county legislative officials at budget time. And I heard other rumors that I won't go into here, because I've never heard any of them substantiated.
Then came the tornadoes of March 2 this year, which killed four people in the Chelsea-Paynesville area and left many, many buildings devastated. In the weeks following, many members of the public in that area, and other parts of the county, became convinced that Ralph Armand was absolutely refusing to bend or cut victims any slack about any regulations which covered his areas of responsibility, concerning in particular sewer lines and septic tanks for buildings which had been destroyed or damaged in the affected areas. When their attendance at county commissioners and health board meetings and their voicing their complaints against Armand's conduct didn't appear to be working, they started the petition drive. The commissioners more or less punted the ball to the health board, saying, in effect, "You're the ones who hired him." Within a couple of weeks, Armand was dismissed. He had refused to resign or retire voluntarily.
It seems to me that both Dick Lugar and Ralph Armand behaved in ways that were unseemly for gentlemen of their ages (Armand is 78), and of long service. In the final days of the Senate primary campaign, Lugar actually was begging Democrats to pull Republican ballots and vote for him in the primary, apparently in the belief that this might "save his bacon". An 80-year-old senator who has already served 36 years, and had a distinguished career as a mayor before that, should have been above such abject pleading. And Armand, who is a man of some means and is not going to miss meals because of losing his administrator's job, should have been graceful enough to announce his retirement. He would have looked like a bigger man for doing it. Instead, he is threatening to sue the county over his dismissal.
But, these two now-unemployed senior citizens may find, in the years left to them, that their dismissals were a blessing in disguise. I know I found it that way.
For those who aren't from this area and don't know me, I worked for the Courier for nearly 40 years. When I was 61 years old, I got fired. My boss gave me a reason for the dismissal — my violation of a particular company policy — but I've always been convinced that she and my supervisor had wanted me gone for several years, and just couldn't come up with a good enough excuse. Then I gave them one myself by being stubborn.
Of course it was a sudden shock to me when it happened, six years ago. For about a week I would sit in my living room in the evening, and it felt as if there had been an 800-pound gorilla sitting there beside me in the room for 40 years, and suddenly it was gone. There was a palpable sense of vacancy there.
Then when I finally came out of the fog and looked over my financial situation, I realized that I could go ahead and retire, right away. My boss had inadvertantly done me the biggest favor anyone ever did, getting me out of an unpleasant, over-worked, stress-filled office situation. I must remember to thank her one of these days.
Of course, she fired two other male employees about my age, within about 18 months of my termination, too. She's lucky we didn't get together, compare notes, and file an age discrimination lawsuit against her. She dodged a bullet, there.
But, that's all ancient history. So now, I'm sitting under my own vine and fig tree, so to speak, and enjoying life as I hadn't since my pre-school years. So I can say, with all sincerity, to Sen. Lugar and Mr. Armand: Hey, guys, sorry about your luck, but you may find that once you get over the shock, you'll find there's a whole new world out there, and that you can, indeed, be happy, without being the senior senator from Indiana, or the administrator of the Jefferson County Health Department.