Christmas is coming! Less than two weeks away, and the usual hustle, bustle, and turmoil is hard upon us!
What would we do; what would the WORLD do, without Christmas? It's the piece de resistance of all holidays, the best possible climax to our year. As the celebration of the holiday has spread worldwide, it has taken root even in mostly non-Christian nations, like Japan, where bright lights and Oriental-style Christmas decorations are prominently displayed, and  Buddhist and Shinto families exchange gifts just as we do.
The gift giving is probably the most prominent feature of Christmas — aside from observing and honoring  the birth of Jesus Christ, of course. You'll recall from the Scriptures: "And God so loved the world, that  He gave his only-begotten Son, that whosoever believeth in Him, shall not perish, but have everlasting life." As God gave the world The Greatest Gift, and the Three Wise Men presented the Blessed Infant with gold, frankincense and myrrh, so we enjoy the buying (or making), wrapping, and presenting of gifts to those who are dear to us. As a friend of mine said once, years ago: "If everyone concentrates on the giving, then the receiving takes care of itself!"
And of course, we cannot discuss Christmas while omitting Santa Claus.
The Jolly Old Elf who we tell our young children comes down the chimney on Christmas Eve to leave them presents, is based on a real person who lived many centuries ago. His name was Nicholas, and he lived in what is now Asia Minor. Nicholas was filled with a great love for people, which manifested itself in generous, but usually anonymous, giving by him to those "less fortunate than ourselves," as we often say nowadays. He was canonized after his death as St. Nicholas. The part of the legend about his lineal descendant, Santa Claus, coming down chimneys is believed to have originated when Nicholas heard of a man who was very poor, ill, and was living in squalor with his two daughters. According to folklore, Nicholas filled a large purse with money, climbed up onto the roof of the man's house at night, and dropped the purse down the chimney. The daughters had washed their stockings and hung them inside the chimney over a low fire to dry, and (you guessed it) the purse dropped neatly into one of those stockings, to be found later by an astonished and overjoyed young woman. And what if the purse had instead fallen into the fire and burned? Well, let's not spoil a splendid story with a dose of unnecessary "reality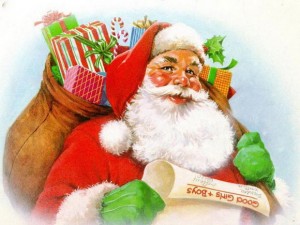 " or "common sense." We get enough of them the rest of the year. Christmas is a special time, when magical things happen. We'll leave it at that.
Santa has become a holiday icon in most of the world now, be it Sweden (bitterly cold in the winter), Argentina or Hawaii (warm as toast, but still a joyful holiday, even if one has to use one's imagination a bit more than if there were snow on the ground and "Jack Frost nippin' at your nose"); or New York City, where most people live in apartments and don't have chimneys for him to slide down. But never mind that; Santa Claus is magical, and his reindeer can stand more easily on a flat big-city roof than they could on a peaked, gabled roof of a Midwestern farmhouse. Didn't you know that?
I've been reading an interesting book this holiday season, called "Does Santa Exist?" The author, Eric Kaplan, seems to be one of those too-smart-by-half intellectuals whose inclination is not to believe in anything he can't see, touch or spit on. But he seems to argue with himself throughout the book in a way that is something like, "Of course as adults we know that Santa Claus doesn't exist. On the other hand, we continue to tell our small children that he exists because it's part of the Christmas heritage, and because it's very charming and exciting to young children. And so we tell ourselves on the one hand that he doesn't exist, but a part of our brain wants to believe that he does." Blah, blah, blah, and so on. But at one point in the book he hits on something that really rang a Christmas bell for me: "Reality transcends logic. Life cannot be embraced by human thought or language, and life can be both A, and not A. This alternative to logic is called 'mysticism' " …
Another Christmas book I've perused is called "The Magic of Christmas Miracles," by Jamie C. Miller, Laura Lewis and Jennifer Basye Sander. It recounts minor "miracles" that the authors say actually happened to people. Chapter titles include: "The Man in the Muffler," about a mysterious bus passenger who restored a girl's hopes; "Angels Among Us," in which a favorite song awakens a comatose child;"Smokey and the Minister," which tells of a father's two-thousand-mile trip to find a lost cat; and "A Christmas Family Reunion," the story of how a mother's heart is healed when she is reunited with her son who was believed to have died more than thirty years earlier. Are these really "Christmas miracles"? Who knows? But no one can prove that they AREN'T.
And so we come to the nub of the argument: Is there a real, live Santa Claus? I recall some years ago that a friend brought her little niece, 6 years old, to my apartment to see the Christmas decorations I still put up in those days. As the little girl looked around at the (admittedly meager) Yuletide finery, I said something about "Only so many days until Santa Claus comes." The child replied, firmly, "I don't believe in Santa Claus! He's just a figment of my imagination." The remark saddened me; I think it bothered her aunt, too. This young, and she's already latching onto "reality" and "common sense"? At Christmastime? What's this world coming to?
Remember Francis P. Church's editorial in the New York Sun to little Virginia O'Hanlon, who asked him, "Is there really a Santa Claus?" In a list of calm and kindly reassurances, Church said at one point: "Your papa could hire men to watch every chimney in your house on Christmas Eve, but if they didn't see Santa coming down one, would that prove there is no Santa Claus?" One could carry that allegory both further and higher. Do you believe in God? Why do you? Have you ever seen him? Have you ever heard him talk? Have you ever touched him? I imagine there are people in this world who could honestly say, "Yes." But most of us if we are honest would have to answer, "No." That's where the militant atheists often jump in, saying, "See? You can't prove God exists, so that proves that he DOESN'T exist!"
No, it doesn't, oh cynical and determined unbelievers. There are things in this world that "passeth all understanding," as someone much wiser than me once said. For instance: Every year at the time of Eastern Orthodox Easter, thousands of Orthodox believers gather at an ancient church in Jerusalem, where it is believed that "Holy Fire" appears once each year, just on that day. A patriarch of the church enters an alcove (after being searched to make sure he isn't carrying any matches or other fire-starting material), and within minutes, emerges with a blazing log, which is passed around among the crowd to light their own candles, torches, and whatnot. They run their hands through the fire, and it doesn't burn them. They hold it under their chins, with no ill effect. There are videos on YouTube showing this inexplicable phenomenon, if you don't believe me.
Now, cynics have tried to "explain away" this annual occurrence, as they always try to dismiss anything they can't see, touch or spit on. "Oh, the patriarch has some way of hiding matches that they can't find when they search him."   "Oh, they use (name some chemical) that produces fire but doesn't burn you for the first few minutes." And so on.
But no one has ever proved that the "Holy Fire" is anything but a miracle. Many millions of Orthodox Christians around the world believe in it. So who is right? It passeth all understanding.
And there we'll let the argument rest. I, for one, prefer to believe that there are things in this world that we can't explain, that cannot be proved — OR disproved. You can either have faith that they are true; or you can spend your life snorting and scoffing, insisting that God is "an imaginary man in the sky" and that Santa Claus is "just a figment of my imagination."
And I'll wind this up with a rousing, happy old Christmas poem by an Englishman named George Wither, who lived from 1588 to 1667.  Notice the title, 200 years before Charles Dickens wrote his famous story about the redemption of Ebenezer Scrooge. Take note also of the rollicking tone, coming just at the same time that the Puritans in England were trying to stamp out the celebration of Christmas as "Papist."
'A Christmas Carol'
So, now is come our joyfull'st feast;
Let every man be jolly;
Each room with ivy leaves is drest,
And every post with holly.
Though some churls at our mirth repine,
Round your foreheads garlands twine;
Drown sorrows in a cup of wine,
And let us all be merry.
Now all our neighbours' chimneys smoke,
And Christmas blocks are burning;
Their ovens they with baked meats choke,
And all their spits are turning.
Without the door let sorrow lie;
And if for cold it hap to die,
We'll bury 'tin a Christmas pie,
And ever more be merry.
Now every lad is wondrous trim,
And no man minds his labour;
Our lasses have provided them
A bag-pipe and a tabour;
Young men and maids, and girls and boys
Give life to one another's joys;
And you anon shall by their noise
Perceive that they are merry.
Ned Squash hath fetched his bands from pawn,
And all his best apparel;
Brisk Nell hath bought a ruff of lawn
With droppings of the barrel;
And those that hardly all the year
Have bread to eat, or rags to wear,
Will have both clothes and dainty fare,
And all the day be merry.
Now poor men to the justices
With capons make their errants;
And if they hap to fail of these,
They plague them with their warrants;
But now they feed them with good cheer,
And what they want they take in beer;
For Christmas comes but once a year,
And then they shall be merry.
Good farmers in the country nurse
The poor that else were undone;
Some landlords spend their money worse
On lust and pride at London.
There the roysters they do play
Drab and dice their lands away,
Which may be ours another day;
And therefore let's be merry.
The client now his suit forbears,
The prisoner's heart is eased;
The debtor drinks away his cares,
And for the time is pleased.
Though other purses be more fat,
Why should we pine or grieve at that?
Hang sorrow! Care will kill a cat,
And therefore let's be merry.
Hark! How the wags abroad do call
Each other forth to rambling;
Anon you'll see them in the hall
For nuts and apples scrambling.
Hark! How the roofs with laughter sound!
Anon they'll think the house goes round;
For they the cellar's depth have found,
And there they will be merry.
The wenches with the wassail bowls
About the streets are singing;
The boys are come to catch the owls,
The mild mare in is bringing.
Our kitchen-boy hath broke his box,
And to the dealing of the ox
Our honest neighbours come by flocks
And here they will be merry.
Now kings and queens poor sheep cotes have,
And mate with every body;
The honest now may play the knave,
And wise men play the noddy.
Some youths will now a mumming go,
Some others play at Rowland-ho,
And twenty other gamblers mo,
Because they will be merry.
Then wherefore in these merry days
Should we, I pray, be duller?
No, let us sing some roundelays
To make our mirth the fuller.
And, whilst thus inspired we sing,
Let all the streets with echoes ring,
Woods and hills and every thing,
Bear witness we are merry.
A very Merry Christmas from Old Corporal to all those who read my stuff. And "Happy Holidays" to those of them who don't happen to be Christians.